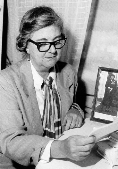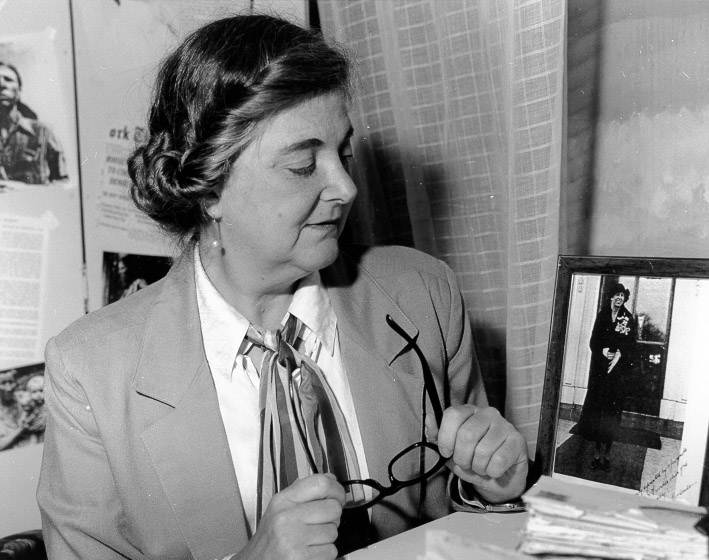 Marjorie Conn as Lorena Hickok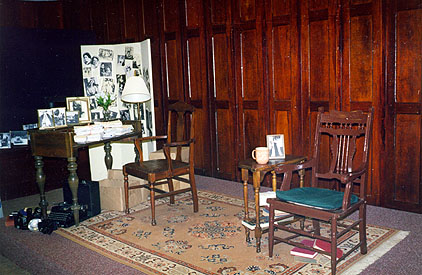 Set for Lorena Hickok & Eleanor Roosevelt: A Love Story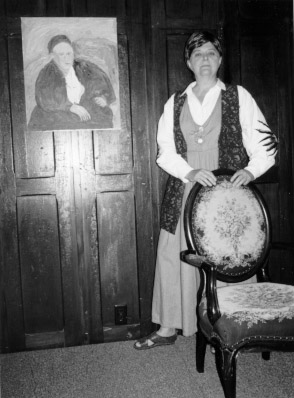 Marjorie Conn as Gertrude Stein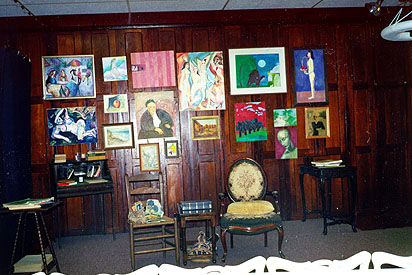 Set for Gerty Gerty Gerty Stein is Back Back Back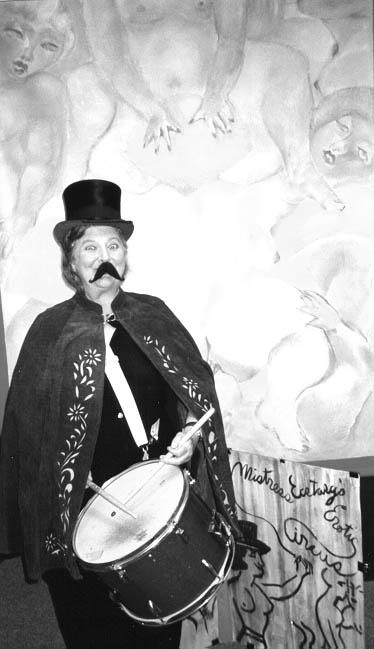 Marjorie Conn in Mistress Ecstasy's Erotic Circus

Marjorie Conn as Isabella Chase in Thar She
Blows: Disguised as a Boy She Went A Whaling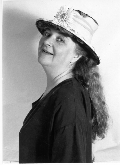 I am an actress, performance artist and writer.
Some of the one-woman shows I perform:
LORENA HICKOK & ELEANOR ROOSEVELT: A LOVE STORY by Pat Bond
The longest running play in the history of Provincetown, MA (since 1994) and has toured all over the US and in Ireland
The companion piece
THE HONEYMOON YEARS OF ELEANOR ROOSEVELT & LORENA HICKOK
by Marjorie Conn has been running since 2002.
I also perform plays about Gertrude Stein,
Lizzie Borden, a woman who disguised
herself as a boy on a whaling ship in the 1800's,
as well as an autobiographical play
MISTRESS ECSTASY'S EROTIC CIRCUS.
My plays are about older women, lesbians,
women who dare. Although they have premiered in Provincetown, MA, they have been performed in many different venues around the country.
After the age of 50 and after gaining 50+ pounds,
I saw there were very few roles available to me.so I began writing my own material.
My plays travel easily. The sets are minimal, and I can perform in any venue: college auditoriums, restaurants, meeting rooms, churches, bars, and even theatres.
If you are interested in any of the plays I perform,
please email me at connartists@yahoo.com.
I am Artistic Director for Conn Artist Performance Event, Inc. which produced The Provincetown Fringe Festival from 1994 to 2007, where I not only performed my own plays but also produced material by other artists. Every performer who wished to participate was accepted. Nobody was ever turned away. Our policy was to give everyone a chance.
3 of my plays have been published in Lost Lesbian Lives: The Honeymoon Years of Eleanor Roosevelt and Lorena Hickok, Miss Lizzie A. Borden Invites You for Tea, and Thar She Blow! Disguised as a Boy She Went A Whaling. The book is $17.45 (includes shipping). Please contact me for more information. Thank you


Marj Conn as Lizzie Borden

The Shows
LORENA HICKOK & ELEANOR ROOSEVELT: A LOVE STORY
by Pat Bond
THE HONEYMOON YEARS OF ELEANOR ROOSEVELT & LORENA HICKOK
by Marjorie Conn
MISTRESS ECSTASY'S EROTIC CIRCUS
by Marjorie Conn
GERTY GERTY GERTY STEIN
IS BACK BACK BACK
by Pat Bond
THAR SHE BLOWS!
DISGUISED AS A BOY SHE WENT A'WHALING
by Marjorie Conn
MISS LIZZIE A. BORDEN
INVITES YOU FOR TEA
by Marjorie Conn
DEATH ROW TEXAS:
GETTING TO KNOW YOU
by Marjorie Conn and
death row inmate Larry Donell Davis
THE LETTERS OF
ETHEL & JULIUS ROSENBERG
adapted by Marjorie Conn
HITCHCOCK IN THE TWILIGHT
ZONE: MACABRE QUARTET
by Marjorie Conn
from stories by Henry Slesar
I will be happy to send you more information.
Click on E-MAIL ME above to contact me
connartists@yahoo.com.
Snail Mail:
415 West 48 Street
New York, NY 10036
212-582-3533
617-512-6066 (cell phone)
---
WE MUST NOT FORGET OUR HEROES!!!!!!
Lorena Hickok was the top newspaper reporter in the US. Hickok and Eleanor Roosevelt's 30 year relationship is documented by more than 2000 letters written by Eleanor to her beloved Hick
When this you see, remember me says Gertrude Stein All the delicious details of her life including her marriage to Alice B. Toklas, her friendships with Matisse and Picasso, her rivalries with James Joyce and Hemingway, her feelings about her hair, her dogs, her fame, her homosexuality are part of this masterpiece.
Lizzie Borden took an ax and gave her mother 40 whacks and when she saw what she had done, she gave her father 41. Did she or didn't she? Miss Lizbeth tells all including her relationship with famous actress, Nance O'Neil
Conn and her pen-pal on Death Row collaborated on a play which is about friendship and relationships.
Conn's plays attract audience members who are interested history, literature, poetry, women's studies, gay and lesbian studies, and just excellent theatre.
Bay Windows said:
"Conn is a unique stage performer and knows how to carry a one-woman show."
The Provincetown Banner said:
"Conn is a maverick and I applaud her for taking risks."
The National Gay & Lesbian Task Force honored Marjorie Conn in 1999 for her contribution to Lesbian Theatre in Provincetown, MA.